For over 30 years, RJ Murphy, Inc. has provided building and remodeling solutions to the Center City Philadelphia and Main Line communities — including Haverford, Bryn Mawr, Ardmore, Wynnewood, and Bala Cynwyd.

We offer kitchen and bathroom remodeling, windows and doors, additions, renovations, custom woodworking... and more! Please call us at 610-726-9000 for a consultation!
RJ Murphy, Inc. provides the highest quality workmanship and provides exceptional service to all clients. Working with a trusted network of tradesmen, RJ Murphy has a proven track record of completing projects on-time and on budget. Our dedication to quality, reliability, and excellence continue to exceed clients expectations.
All of our services are delivered with a focus on minimizing dust and other construction related debris. We protect the surfaces in your home while we work to minimize potential damage or post job cleanup. While we work, we minimize our impact on your home so you can still live there (as much as possible) while we work.
Our services include...
Additions
Kitchens
Bathrooms
Doors & Windows
Renovations
Stairs
Crown Moulding
Custom Woodworking
Carpentry
Structural Repairs
We serve the wonderful communities of Philadelphia and the the Philly Main Line including but not limited to Center City, Bala Cynwyd, Wynnewood, Ardmore, Haverford, Bryn Mawr, Villanova, St. Davids, Wayne, Devon, and Berwyn.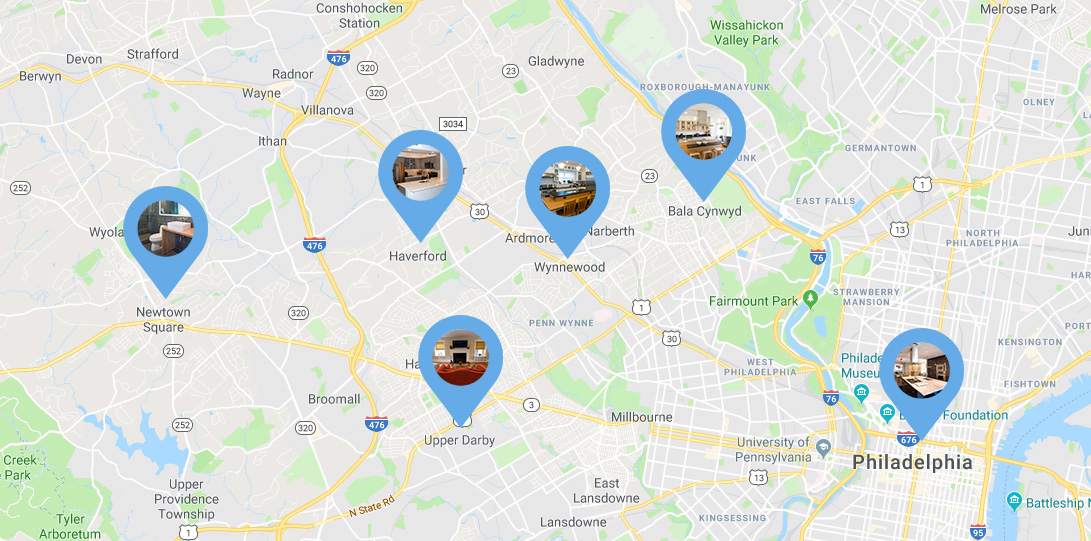 "I've enjoyed working with Bob Murphy for 15 years. I've always been pleased with his attention to detail, his execution, and his reasonable pricing. As an Architect, I know I can rely on him to communicate clearly, and satisfy the clients needs with great satisfaction. I highly recommend him."
Christopher Beardsley
"You did an amazing job on our house. The kitchen, the bathrooms, the deck, everything you did was great. We appreciate the many hours you spent just making sure that we were happy and we were satisfied with the results. You came through 100% of the time and we have a beautiful home to enjoy. Thank you."
Matt & Lindsay
"Bob Murphy, at RJ Murphy, Inc, is everything you want in a contractor. He tells you exactly what he is going to do and delivers. He always shows up and stays on the agreed upon schedule. His work is perfection. I highly recommend him."
Mike Maloney
"RJ Murphy Inc. provided excellent service and craftsmanship on a significant renovation that included complete kitchen redo, exterior façade and rear yard improvements. Particular care was taken to minimize the impact to our family during a project which – from necessity – was quite disruptive; RJ Murphy was very good with keeping site conditions clean, and in order. The level of care and attention to detail was high; the project included a number of custom millwork pieces which evidenced RJ Murphy's experience in cabinetmaking. Change Orders were clearly presented and schedule updated regularly. Subcontractors were generally well selected, with skills/experience well matched to the project. This was the second project RJ Murphy completed in our home (the first was a master bath renovation); we couldn't be happier with the results of both."
Stuart Mardeusz
"Bob's work is fantastic! He is meticulous, creative, and reliable. He built a wonderful built-in cabinet and fireplace mantle in our living room. We love his work! It completely changed the appearance and feel of the room!"
Sean Murphy
Simply send us an email or give us a call for a free estimate. We'd love to serve you!
Office Hours are by appointment only. License #: PA 037666
Office Address
1620 Delmont Avenue
Havertown, PA 19083